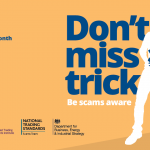 RESIDENTS in Eastbourne are invited to attend an event aimed at raising awareness of scams and doorstep crime.
An information tent will be in position on Five Acres Field, near the junction of Princes Road and Middleton Dive, on Tuesday, June 26 2018 from 10am to 4pm.
East Sussex Trading Standards officers will be joined by colleagues from Sussex Police, the Safer East Sussex team, Eastbourne Borough Council, Neighbourhood Watch and East Sussex Fire and Rescue Service.
The event, which coincides with Scams Awareness Month, will allow residents to speak to all the organisations attending to get information and advice on how to avoid becoming a victim of scams.
Meanwhile, during the day officers will visit all homes in Princes Road, Middleton Drive, Foley Close and Cochrane Close – an area which has recently become a hotspot for rogue traders – offering advice and handing out leaflets and door stickers.
Richard Strawson, East Sussex County Council Trading Standards team manager, said: "Rogue traders often target the most vulnerable people in our society, taking an emotional as well as financial toll on victims.
"It's vital that we work with our partners to raise awareness of these kind of crimes and to educate people to the tactics these unscrupulous criminals use.
"This event will enable us to speak directly to residents in one area which has been particularly affected, to help them, and their friends and loved-ones, to avoid becoming victims of scams."
If you, or someone you know, is vulnerable and has been a victim of fraud contact Sussex Police on 101. To report fraud or attempted fraud, visit www.actionfraud.police.uk or call 0300 123 2040.
For consumer advice, or to report a concern to Trading Standards, contact the Citizens Advice consumer helpline on 03454 040506, or by using their online reporting page which can be found at www.eastsussex.gov.uk.
More information on spotting and avoiding being a victim of scams can be found on the Citizens Advice website at www.citizensadvice.org.uk/consumer/scams/scams/