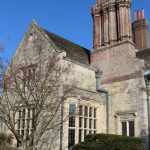 COUPLES celebrating their wedding at a historic venue in Lewes are being offered a new and improved service to help them celebrate their big day.
East Sussex County Council's registration service is expanding the variety of celebratory packages people can buy in addition to their wedding ceremony at Southover Grange, in response to customer feedback.
The changes, which will be introduced from Monday August 20 2018, will also include an amended pricing structure which will make exclusive packages including extras such as drinks toasts and reception room hire more affordable.
The Grade II*-listed 16th century manor house reopened and began offering weddings and other celebrations and ceremonies last summer after a £1.5 million refurbishment.
Cllr Bill Bentley, county council lead member for communities and safety, said: "Since it reopened, Southover Grange has proven a very popular venue for couples to enjoy their special day.
"However, the feedback we've received from customers indicates that people wanted more flexibility to be able to mix and match the kind of celebration they wanted to suit their needs.
"The exciting changes we're bringing in will offer more choice and will also make some of the more exclusive packages more affordable, to ensure people can celebrate their wedding in the way that suits them."
Under the new arrangements, customers can choose the VIP package which features use of the VIP suite before their ceremony or one of six additional packages.
These packages feature extras such as a drinks toast, a wedding reception with canapés, or a sit-down dinner in the elegant Newton Room with exclusive use of the building for five hours.
More information can be found online at www.eastsussex.gov.uk/southovergrange or by calling the registration service on 0345 60 80 198.