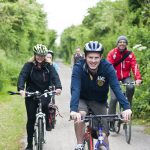 GROUPS and organisations wanting to promote healthier travel can apply for funding to support their projects.
Not-for-profit organisations, community group and schools and colleges have until February 1, 2019 to apply for a share of money available in round two of the Active Access for Growth (AAfG) Community Fund.
The East Sussex County Council fund, delivered by Sustrans – the charity making it easier for people to walk and cycle, is part of the AAfG scheme which promotes active travel to work, school or training across the county. It is made possible thanks to funding of £1.2 million from the Department for Transport.
The funding aims to support cycling, walking and public transport across the county's three growth areas – Newhaven, Eastbourne/south Wealden and Bexhill/Hastings.
Cllr Nick Bennett, the county council's lead member for transport and environment, said: "This is a great opportunity for groups and organisations considering initiatives that will boost physical activity and support local economic growth in Newhaven, Eastbourne, south Wealden and Bexhill and Hastings.
"Enabling more people to walk or cycle to work, training or to access education will increase levels of activity and reduce congestion and pollution."
He added: "We have already seen the positive impact the fund is having on local communities thanks to the first round of funding distributed earlier this year, and we hope that many more projects can be boosted in round two."
A total of nine projects benefited from round one of the fund including;
• 1066 Cycle Club, Battle – to encourage cycling and support the 1066 Country Ride
• FSN Charity, Hastings – Mindfulness Walking sessions for those affected by poor mental and physical health
• Bike Lab, Hastings – increase opening times at the community bicycle workshop
• Cycling Without Age, Seaford – match funding for a specially adapted 'trikshaw' to give free rides to elderly residents
• Annecy Primary School, Seaford – Wild Beach cycle rides to encourage parents and children to be more active
James Cleeton, England South Director at Sustrans, said: "Through the Active Access for Growth programme, we are aiming to increase levels of physical activity and make a positive impact in local communities.
"This second round of funding provides a real opportunity for local groups and communities to get more people walking and cycling and, as a result, help reduce traffic-congestion, tackle air pollution and improve people's health and wellbeing."
Up to £3,000 is available in round two for individual projects promoting healthy travel to work education and training, such as walking and cycling incentive schemes for employees and students, walking and cycling projects aimed at those with current health conditions and those currently unemployed, walking buses and cycling trains, cycle maintenance training and travel support services.
Guidance and application forms are available online.