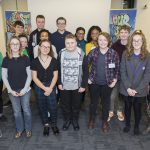 YOUNG people in East Sussex have taken their seats on a body representing their peers on the issues that affect them.
A total of 21 young people aged between 11 and 18 have been elected or co-opted to serve for one year on the East Sussex Youth Cabinet, each representing their school, college or youth group.
They will campaign on the top three issues chosen by young people in the Make Your Mark ballot held in November – knife crime, mental health and homelessness.
Tom Bruges, 14 who represents Hastings Academy on the Youth Cabinet, said he hoped to campaign on mental health in particular, which he said was a 'crisis issue'.
He said: "I stood for Youth Cabinet because I felt youth needed more representation and there's a deficit of power between young people and adults. I'm honoured to be part of this group and look forward to working with the other wonderful cabinet members."
Alice Holland, 11, from King's Academy Ringmer, said she was 'excited' about working to address the issue of homelessness, while Alexander Payea, 15, from Seaford Head School, said he hoped to continue the work of previous youth cabinets in campaigning for votes at 16.
The new Youth Cabinet gathered together for the first time at a welcome evening held at County Hall, in Lewes, and attended by Cllr Sylvia Tidy, East Sussex County Council lead member for children and families.
She said: "The East Sussex Youth Cabinet does a great job in making sure decision makers are aware of the issues which are important to them and how their decisions affect young people.
"It's great to see so many young people taking part in the democratic process and making a real difference in their communities."