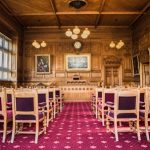 FAMILIES planning a celebration or ceremony can find everything they need thanks to a series of open days.
East Sussex County Council's Registration Service will be opening its doors and showcasing its venues in Eastbourne, Crowborough and Lewes to give inspiration to those organising a special day, following on from the success of the first open day in Hastings in November last year.
The open day in Crowborough will enable people to find out more about weddings, naming ceremonies, renewal of vows and other celebrations, while the events in Eastbourne and Lewes will also include suppliers and musicians.
Steve Quayle, East Sussex County Council team manager for registration, said: "We are incredibly lucky in East Sussex to have some stunning venues in which to celebrate a wide range of ceremonies.
"Planning and organising a special event like a wedding or naming ceremony can feel like a daunting task, and we hope these open days will give people inspiration for their own events.
"Our wonderful registrars will be on hand at each event to give information about the services available and to promote our beautiful buildings."
On Saturday, March 23, the historic Eastbourne Town Hall, which boasts three ceremony rooms, will be open to the public.
On Saturday, March 30, visitors will be able to find out more about the ceremonies on offer at Crowborough Register Office.
And on Sunday, April 7, the grade II listed Southover Grange in Lewes, with two ceremony rooms, will be open.
Local suppliers will also attend the open days at Eastbourne Town Hall and Southover Grange to promote the services they have to offer.
All three open days will run from 10am to 2pm and entry is free.
Those unable to attend can still get the support they need by visiting the Ceremonies in East Sussex website.
Launched by East Sussex Registration, the website brings together in one place a wealth of information about weddings and other ceremonies. It includes details of more than 100 licensed wedding venues available across the county, along with a directory of suppliers providing services such as hair and beauty, transport and cake-making.
The website can be found at www.ceremoniesineastsussex.co.uk
More information about the open days can be found at;
Eastbourne: https://www.facebook.com/events/540835443096449/
Crowborough: https://www.facebook.com/events/414768545730304/
Lewes: https://www.facebook.com/events/371678370264754/
Ends.