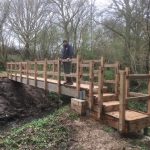 A FOOTPATH which straddles the border between East and West Sussex has reopened after a bridge was rebuilt.
The path near Ashurst Wood, north of Forest Row, has been closed to walkers since January 2019 as a bridge along its route was out of action.
The bridge, part of a footpath running between Shovelstrode Lane and the A264 Holtye Road, crosses a stream which marks the border between the two counties.
It has now been completely rebuilt in a project funded by West Sussex County Council and completed by rangers from East Sussex County Council.
A spokesman for East Sussex County Council said: "The old bridge had to be closed as it was in a poor condition and had come to the end of its natural life.
"We're sorry for any inconvenience caused during the closure and are happy to be able to announce the reopening of the route following the rebuilding of the bridge."
A West Sussex County Council spokesperson said: "We'd like to thank East Sussex County Council for acting pro-actively and delivering an improved crossing for walkers."
More information about rights of way in East Sussex, including other temporary footpath closures, is available online at www.eastsussex.gov.uk/rightsofway