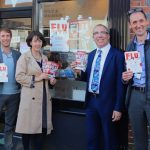 HEALTH workers in East Sussex have been getting their flu jab – and are encouraging other people in vulnerable groups to do the same.
As the days shorten, the temperatures drop and the flu season approaches, East Sussex County Council's public health team is calling on those eligible to ensure they get their free jab.
Over 65s, pregnant women, people with long-term health conditions and young children are particularly vulnerable to the effects of flu, and eligible for the free vaccination.
Frontline health and social care workers are also encouraged to have the jab to protect themselves, their colleagues and people they care for.
East Sussex director of public health, Darrell Gale, and staff from public health and the council and NHS joint community rehabilitation service got their jab at St Anne's Pharmacy, in Lewes.
Mr Gale said: "Flu is a nasty illness with potentially serious consequences, particularly for people in at-risk groups, and the risk increases during cold weather.
"The flu vaccination is still the best way for people to protect themselves against the virus, and now is the best time to get it – before winter really starts to kick in.
"Getting the jab is quick, simple and free for the people who need it most. I'd urge all those eligible to make sure they get vaccinated to ensure they're protected."
Symptoms of flu, which is spread by coughs and sneezes or touching surfaces on which germs have landed, include fever, chills, headaches, aches and pains in joints and muscles and extreme tiredness.
Flu can lead to serious complications for people with underlying conditions such as diabetes, respiratory conditions, neurological diseases such as MS and heart, kidney and liver disease.
Older people are more vulnerable than most if they catch flu, while pregnant women, whose immune system is naturally weakened, are at risk of serious complications for them and their baby.
Children, who are 'super spreaders' of flu, receive the vaccination via a simple nasal spray, which is given to all primary school age children at school.
Younger children, older people, pregnant women and people with long-term conditions can get their free vaccine by contacting their GP surgery, pharmacist or midwife.
More information is available online at nhs.uk/fluvaccine