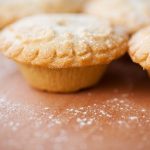 PEOPLE in East Sussex are being urged to play their part in reducing food waste this Christmas – and save themselves a few quid while they're at it.
Across the county, food accounts for more than a third of waste in black bags, with bins bulging even more during the festive season when families come together to eat, drink and be merry.
Nationally, 74 million mince pies, five million Christmas puddings and two million turkeys are thrown away each Yuletide, while an average family of four wastes around £70 worth of food every month, including unnecessary waste like unused or out-of-date food.
East Sussex County Council is encouraging people to cut Christmas food waste and reduce their spending by planning before they shop, storing food correctly and making use of everything they buy.
Karl Taylor, the authority's assistant director for operations, said: "Christmas is a time when many of us stock up for a festive feast, but lots of that food ends up in the bin.
"It might not seem like much, but it all adds up to a mountain of waste which increases the burden on local councils who collect and dispose of your rubbish.
"By following a few simple tips, people can still indulge their taste buds this Christmas while reducing waste and saving themselves some money into the bargain."
To reduce Christmas waste:
– Plan ahead, only buy what you'll need and avoid 'buy one get one free' and other deals unless you're sure you'll eat it all
– Make a list of what you actually need before you shop and stick to the list
– Resist the urge to prepare overly large portion sizes for Christmas dinner
– Store leftover food in airtight containers as soon as it cools and freeze it to use in meals early in the New Year
– Use leftovers to make soups, stews, curries and dishes such as bubble and squeak
– Ensure your fridge is at the right temperature for keeping food fresh – between 0 and 5C
– Invite a neighbour round, particularly anyone who might be isolated at Christmas, to ensure all your food is eaten
People can also add vegetable peelings to compost heaps. Tips on composting and details of how to obtain good value compost bins can be found at www.eastsussex.gov.uk/composting
More tips on reducing food waste can be found on the website of national initiative Love Food Hate Waste at www.lovefoodhatewaste.com