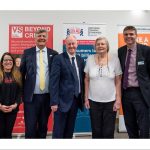 SCAMMERS attempting to con East Sussex residents out of hundreds of thousands of pounds have been thwarted by trading standards officers.
Figures revealed at a Sussex and Surrey scams event last week shows that the 118 call blockers installed by East Sussex Trading Standards since 2014 had prevented residents losing more than £500,000.
The device, which prevents scam and nuisance calls from being received, is also estimated to have saved the NHS and health and social care services almost half a million pounds in East Sussex alone, bringing overall savings to just over £1million.
The information was shared at an event, chaired by East Sussex trading standards manager Richard Strawson, which gave those who work with people vulnerable to scams a chance to share ideas and concerns.
Richard said: "There is a lot of work going into disrupting the operation of scammers who con residents across the country out of billions of pounds of their hard earned cash every year – the call blockers are just one weapon in our growing armoury to protect individuals against the fraudsters.
"But equally as important as the methods and equipment we use, is the strength and efficiency of the partnerships between trading standards teams and those who have regular contact with people at risk of being scammed.
"The scams event was the perfect opportunity to bring those people – from local authorities, the voluntary sector and other organisations, to talk about what they could do to keep residents safe and help in the battle against unscrupulous scammers."
Speakers at the event, which was held in Burgess Hill on Tuesday, February 4, included Lou Baxter MBE who developed and now manages the National Scams Team, National Scams Team investigator Richard Clarke and Steve Smith, director of trueCall, who developed the call blocker.
Attendees also heard from victims of scams about their personal experience and the impact it has had on their lives, both financially and emotionally.
The event also gave trading standards teams the chance to promote Friends Against Scams – an initiative developed by the National Trading Standards Scams Team which recruits and trains volunteer Friends, SCAMchampions and SCAMbassadors who share messages about scams prevention with friends, family, neighbours, and community groups.
Richard Strawson added: "We all have a role to play to ensure the scammers don't win, and the Friends Against Scams initiative helps people from all walks of life know what to look out for and how to protect people vulnerable to scams."
East Sussex County Council councillors are SCAMbassadors for Friends Against Scams and all new employees are offered Friends Against Scams training.
More information about getting involved in the fight against scams is available at www.friendsagainstscams.org.uk or from the East Sussex Against Scams Partnership website – www.safeineastsussex.org.uk/ESASP.html