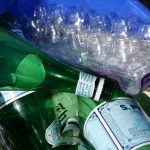 GREEN residents in East Sussex fuelled a record-breaking post-Christmas recycling blitz, new figures reveal.
East Sussex County Council data shows a whopping 4,695 tonnes of recycling – the weight of 783 African elephants – was processed from kerbside collections last month, beating the previous best set last year by 111 tonnes.
Monthly recycling tonnage, which usually hovers around the 3,800 mark, surges in January as people dispose of items such as Christmas cards, wrapping paper, cardboard, drinks cans and recyclable glass and plastic bottles.
Cllr Claire Dowling, county council lead member for transport and environment, said: "It's great to see people in East Sussex making the effort to recycle so much of their post-Christmas waste.
"There's a growing awareness about the impact of human activity on our planet and recycling rubbish is one way each and every one of us can play our part in protecting the environment.
"Every item that is placed in recycling bins helps us to reduce even further the amount of waste which goes to landfill or is incinerated for energy, shrinking our carbon footprint and helping the planet."
In 2018-19, 43 per cent of household waste in East Sussex was recycled or composted, 51 per cent was burned to generate electricity and just four per cent went to landfill.
People are urged to ensure their waste can be recycled by giving containers a quick rinse before putting them in recycling bins, squashing plastic bottles before putting lids back on and ensuring there's no food waste or textiles in the bin.
Putting the wrong materials in the recycling bin could result in all the contents of the bin not being recycled. People should check www.eastsussex.gov.uk/recycle for details of what can or can't be put in their recycling bin.
Household waste is collected by local district and borough councils but the county council is responsible for disposing of waste from kerbside collections and from household waste recycling sites.