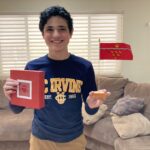 THE East Sussex flag is flying on the other side of the Atlantic after the county council stepped in to help a young collector.
Jesse Mishell, aged 14, from Colorado contacted East Sussex County Council with an appeal for county memorabilia to add to his collection of state and country flags, pin badges, and maps.
The council was keen to help Jesse with his request and sent him a table top East Sussex flag and a gift set containing a key ring, pin badge and wallet all branded with the East Sussex coat of arms.
Jesse's collection contains flags from countries, states and provinces all over the world including Australia, Switzerland, Bavaria, Flanders, Hokkaido and Tasmania as well as the United Nations and European Union.
Jesse said: "In addition to the flags I have collected, I have received maps, pins and novelty items from different places. I have received books from Canada and the Cook Islands, a shirt from Australia and hats from the Netherlands and Ireland. My personal favourite novelty item is a stamp collection from Estonia."
Cllr David Elkin, Chairman of East Sussex County Council, said: "We were delighted to be able to help Jesse add East Sussex to his amazing collection and hope one day he will be able to come and visit our county in person."
Jesse added: "The best part about this is you never know that you are going to get, but the items I have received have shown me how much people care and how generous people are, even if you live on opposite sides of the world. Thank you!"