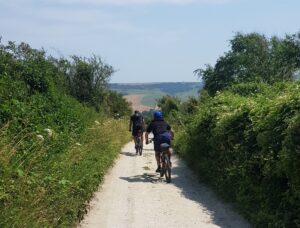 A BLUEPRINT for how the county council could make active travel more convenient for everyday journeys has been approved.
The council's East Sussex Local Cycling and Walking Infrastructure Plan, which proposes an ambitious network of preferred cycling and walking routes across the county, was agreed by Cabinet on Thursday, September 30.
Cllr Claire Dowling, lead member for transport and environment at East Sussex County Council, said: "Cycling and walking can have huge benefits to people's health and wellbeing, as well as improving air quality and reducing carbon emissions.
"We are keen to put infrastructure in place to encourage people to find more active and healthy ways to travel, and approval of this plan is another step towards achieving that goal."
She added: "This is a document that will evolve with schemes coming forward as and when external funding becomes available, at which point detailed design work and a thorough consultation will take place."
The plan, which at this stage does not include detailed proposals, will build on the active travel measures already delivered through the council's local transport capital programme and active access for growth programme.
Delivery of the plan relies on the council and their partners securing external funding to develop and deliver future schemes.
Cllr Dowling continued: "This is a long-term project and the plan will be regularly reviewed and updated to take into account the views of our residents, and to make sure it continues to support active travel while reflecting the needs of local communities.
"Having a plan in place puts us in a stronger position to secure future investment for the successful delivery of an expanded walking and cycling network across the county."
In line with guidance from the Department for Transport, the county's first plan focuses on areas where there is the greatest opportunity to increase levels of cycling and walking and therefore, to attract external funding, such as the coastal strip and larger market towns in the county.
In rural areas, the council will look at how walking and cycling can be supported through its local transport plan, as well as local and neighbourhood plans. Officers will continue to work with local partners to identify opportunities and funding for active travel.
More information on the Local Cycling and Walking Infrastructure Plan can be found at https://www.eastsussex.gov.uk/roadsandtransport/planning/