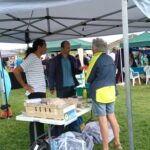 GREEN projects across East Sussex are in line for a welcomed cash boost thanks to the public's generosity.
East Sussex County Council teamed up with Crowdfunder to support community projects committed to addressing the climate emergency by offering a share of £25,000 match funding.
Six projects were chosen from across East Sussex to take part in the Projects that Matter competition, and all will receive at least £2,500 of match funding from the county council if they hit the fundraising targets.
Cllr Nick Bennett, the county council's lead member for resources and climate change, said: "This is a great opportunity for community projects to get their environmental projects up and running at a time when funding is scarce.
"Initiatives that help reduce waste, protect and improve green spaces, and promote more sustainable living are so important as we all work towards reducing our carbon footprint and addressing the global climate change crisis, and we are pleased to be able to support them by doubling their fundraising efforts."
The six projects chosen to receive a share of the match funding include;
Pop Up Pantries
The Newhaven Green Centre
CPP workshops for schools, groups and organisations
Seaside Community Garden
Eco Heat the Y Centre by naming a radiator
Wildside – community orchard
The projects were offered one-to-one coaching support from experts at Crowdfunder and the organisations waived the usual platform fees so groups will keep all the money they raise.
Max Upton, Crowdfunder UK Campaign Manager, said: It was great to see so many environmentally conscious ideas and initiatives express an interest to take part in the Projects that Matter: East Sussex competition.
"It's a pleasure to provide a crowdfunding platform for these six winning projects and help them unlock up to £5,000 in match funding from East Sussex County Council. We're also pleased to say we are waiving our platform fee to help make their ideas happen."
While every project taking part will receive at least £2,500 by hitting two fundraising milestones, four of the projects could win a share of a further £10,000 by hitting the third fundraising milestone.
To find more and pledge support visit www.crowdfunder.co.uk/projects-that-matter-east-sussex
Participating projects
Pop Up Pantries
The Havens Food Cooperative project prevents more than a ton of still edible, perishable food from reaching landfill every week in partnership with 16 local supermarkets.
Using a network of 15 volunteers, and the Havens Community Hub office in Denton, they rapidly redistribute produce to hundreds of people living in the SeaHaven area (Seaford to Saltdean) including the smaller towns and villages along the coastal stretch between Brighton and Eastbourne.
They are expanding their service by adding 'Pop Up Pantries' – taking the food to more distribution points, including supplying community fridges, support groups, static home parks, temporary accommodation sites as well as local families and individuals.
Thousands of pounds worth of rescued produce is distributed free of charge and, normally, donations are turned into ten times the value – but with this matched funding opportunity a £10 donation would be turned into £200 of community food whilst reducing landfill and preventing unwanted extra greenhouse gases.
Pop Up Pantries have so far raised £6895
Newhaven Green Centre
The Newhaven Green Centre is a new organisation in Newhaven running pop-up stalls at local community events offering information and advice about recycling and reuse, collecting some difficult to recycle items, and running a 'Sharing Shop' to help people share any unwanted 'waste' items.
The group is in the process of setting up a sharing library, to lend items that people sometimes need but don't need all the time like tents, tea urns, extra plates and cutlery for family parties, travel cots for visitors with children.
By encouraging people to share what they have the group hopes to greatly reduce the amount people need to buy or throw away reducing the impact on the environment while helping people save money.
Trustee Adam Bushell said: "The Newhaven Green Centre aims to help the residents of Newhaven lower their carbon footprint while saving money. This Crowdfunder campaign and East Sussex County Council's generous support of it will make a huge difference, and help us get premises and a sharing library up and running as soon as possible!"
Newhaven Green Centre have so far raised £2,981
Eco-heat at the Y Centre
Last year The Y Centre in St Leonards-on-sea invested more than £30,000 in a new eco boiler and are hoping to raise money to buy heat adjustable radiators to reduce heat consumption and emissions.
The centre serves the local community offering sporting and exercise classes and groups, offering space for youth clubs, skating parties, dance schools and free school holiday activities, an award-winning nursery, support groups and much more. Up to 1,000 people take part in activities in the building every week.
Judith from Hastings and Rother YMCA said: "Now that winter has arrived we have some really hot rooms and some very cold ones … If only we had radiators we could control we could share the warmth! Even if you can only donate £1 we will be grateful."
Eco-heat has so far raised £660
Wildside – community orchard
Community Supporters, a new Rother-based environmental education charity, is hoping to use money raised to develop 20 acres of disused land to create a community orchard and forest school.
Bringing the orchard and copse back to its former glory will allow the charity to develop an educational programme, increase local food production as well as raise awareness of rural jobs and the long-term importance of looking after orchards and woodlands.
The money raised through Crowdfunder will allow work to begin to make the leased site safe and accessible to visitors, creating pathways for easier access for all and funding a programme of activity for the local community.
Wildside has so far raised £110.
CPP workshops
Hastings-based Crisp Packet Project makes amazing survival items for the homeless and less fortunate communities from recycling crisp packets and using landfill-destined plastics.
With money raised through Crowdfunder, the group hopes to raise awareness on sustainability, global issues, recycling and homelessness by running free workshops for children and adults.
The money will cover all the equipment to allow participants to make a survival sheet or blanket in a workshop and make a real difference to someone less fortunate. The more money raised, the more schools, colleges and community groups the Crisp Packet Project can reach.
CPP has so far raised £2,162.
Seaside Community Garden
Devonshire Collective is hoping to raise as much as possible to turn an unloved site on Seaside Road, Eastbourne, into a new community garden, safe and accessible to all.
The funds raised will enable the group to securely fence the perimeter using sustainable and reclaimed local wood, landscape the area and create an accessible area with raised planters and a potting shed.
The group will be working with local makers at Eastbourne Studio Pottery, who will help design and decorate the garden and with the Rough Sleepers Initiative on the landscaping and maintenance.
Seaside Community Garden has so far raised £2,079.
Ends.