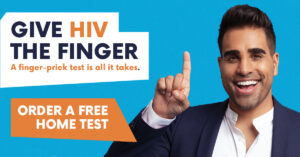 PEOPLE across East Sussex are being encouraged to get tested for HIV, as part of a national campaign week.
The council is backing National HIV Testing Week, running from February 7 to 13, which aims to encourage more people to get tested for the virus.
HIV testing is quick and easy and can even be done at home. Free finger-prick tests can be ordered online at https://www.sh.uk/, with the results available by text message or email within a few days.
Darrell Gale, East Sussex Director of Public Health, said: "Very effective HIV treatments exist today for HIV, so the sooner you get tested, diagnosed and start treatment, the better it is for your, and others', long-term health.
"With the HIV medication available most people living with HIV, if diagnosed early and regularly taking the HIV treatment, will live their full natural lifespan.
"For people living with HIV, if you have been taking effective HIV treatment and your viral load has been undetectable for 6 months or more, you cannot pass the virus on through sex.''
Regular testing helps to reduce the number of people living with undiagnosed HIV, and those diagnosed late, who may unknowingly pass the virus on to others.
Mr Gale continued: "It's recommended testing for HIV at least once a year if you've had unprotected vaginal or anal sex, or more than one partner.
"Testing is free, easy, quick and discreet. Anyone diagnosed with HIV in the UK can access free treatment and support.
"I'd urge anyone who thinks they may be at risk of having HIV to take the test as soon as possible."
People can also get tested at their local GP or specialist sexual health clinic.
Anyone who is HIV negative may be able to take pre-exposure prophylaxis (PrEP) medicine to reduce their risk of getting the virus, available for free from sexual health clinics.
Further advice and support can be found on the East Sussex Sexual Health website, www.eastsussexsexualhealth.co.uk, which provides residents with a 'one-stop shop' for information on sexual health and contraception.
The site includes links to access free condoms, which are an effective form of protection against HIV and other sexually transmitted infections (STIs), and free home STI testing information, as well as guidance and advice about contraception, emergency contraception, pregnancy, sexually transmitted infections, and service locations.
More information about National HIV Testing Week, run by HIV Prevention England, is available at www.startswithme.org.uk.