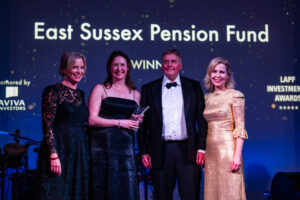 THE EAST Sussex Pension Fund has been honoured at a national awards ceremony.
The Fund has been named Local Government Pension Scheme (LGPS) Fund of the Year (assets over £2.5 billion) at the 2021 Local Authority Pension Fund (LAPF) Investments Awards.
The top award recognises the Fund's excellence in implementing best practice, leadership across pension fund operations, investment performance, governance and administration, and collaboration and leadership within the LGPS.
The East Sussex Pension Fund was praised by the judging panel, who commented: "Not only was the Fund's investment performance excellent, the judges were especially impressed by our winner's approach to governance, administration, and collaboration."
In addition, the Fund was highly commended in the Best Climate Change Strategy category, reflecting the work it has done to change and develop its strategy, processes and reporting in relation to climate and other environmental, social and governance risks.
Cllr Gerard Fox, Chair of the Pension Committee at East Sussex County Council, said: "Winning the LGPS Fund of the Year award is a fantastic achievement and testament to the hard work of our officers and advisors in managing the Fund.
"A great deal of work and thinking has been undertaken to address both the challenges and the opportunities presented by climate change, sustainability, and the energy transition. This has helped us to better align the Fund's portfolio with these themes, allowing it to play a role both in providing climate solutions, as well as protecting the interests of our scheme members.
"Being highly commended for our Climate Change Strategy is a welcome acknowledgement of this ongoing work and the substantial changes that we have made."
The LAPF Investments Awards were established in 2015 and have come to be recognised as a mark of excellence in the field of pensions provision in the Local Government Pension Scheme.
The 2021 awards were held in March 2022 after being postponed from last year due to the pandemic.
The East Sussex Pension Fund is part of the national Local Government Pension Scheme and is administered by East Sussex County Council. There are currently around 130 employers within the Fund and over 78,000 members.
For more information on the Fund visit https://www.eastsussexpensionfund.org/