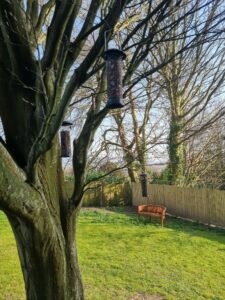 A RE-WILDING project at County Hall in Lewes has seen the creation of a wild garden along with the installation of swift nesting boxes.
A tranquil garden has been created by the council's Property team from a disused area next to one of the car parks in the council office complex.
Led by the council's grounds expert Mathew Scott, who identified the area for the wild garden, the team have installed benches and a picnic table as well as peanut feeders on an established birch tree to encourage small birds to the new garden.
The tree already supports over 300 species of insects and the seeds attract many birds, notably siskins and finches.
The grass will not be mown for several months to allow wildflowers to grow during the spring and summer, providing the habitat that bees, butterflies and other insects need to thrive.  An information board in the garden provides more information about re-wilding.
A new birch tree, Betula Jacquemontii, has been donated by Staverton Nursery and planted in the garden. The tree, commonly known as the Himalayan Birch, was chosen because the species represents re-birth, new beginnings and growth.
A part of the re-wilding initiative, four swift nesting boxes have also been installed on the office buildings, with the specific locations carefully chosen to provide clear flight paths for the birds.
Swifts are already nesting to the south of the council buildings, and colonies have been spotted looking for nests locally.
Swifts return to the same nest year after year and like high, deep crevices to nest. Unfortunately, because many old houses and buildings have been redeveloped and roof spaces filled or mended, their numbers have declined dramatically and the birds are now on the UK Red list of conservation concern.
Cllr Nick Bennett, lead member for resources and climate change, said: "Since the Second World War, over 90 per cent of the country's wildflower meadows have been lost. Creating wild gardens such as the one at County Hall is a small step to reinstating these important natural environments and ensuring we protect the habitats our wildlife needs to survive.
"Due to a lack of suitable nesting sites, the number of swifts spending summers in the UK continues to fall. It is hoped the new nesting boxes at County Hall, which are near existing colonies, will help the local swift population to thrive.
"I encourage staff and visitors to spend time in the new garden, appreciating the peace and tranquillity while enjoying the flowers and wildlife."
Seasonal updates on the garden and nesting boxes will be provided by the Property team.