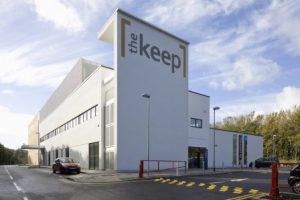 VISITOR introduction sessions will be restarting at The Keep Archive Centre from Wednesday, June 1.
The centre's Welcome Wednesday sessions, which were stopped during the Covid-19 pandemic, are set to resume on the first Wednesday of each month between 10am and 12noon.
During the sessions, expert staff will be on hand to answer questions and show visitors the specifics of researching at The Keep.
Welcome Wednesday visitors will have the opportunity to go behind-the-scenes and see the centre's state-of-the-art document repositories, conservation studio and digitisation suite.
The sessions will also include an overview of how to navigate The Keep's website and catalogue and book documents for a visit, as well as a brief introduction to the reference and reading rooms.
The Keep is a world-class centre for archives offering access to the collections of the East Sussex and Brighton and Hove Record Office, the University of Sussex and the Royal Pavilion and Museums Trust.
The centre cares for thousands of historic documents, including maps, photographs, books and Special Collections, which record every aspect of the county's people, organisations and way of life. The earliest document dates from the 1090s.
Recently, in a joint project between The Keep, Ancestry and the West Sussex Record Office over six million local parish records spanning 457 years of Sussex history have been digitised and made available online through the Ancestry website.
It is free to visit The Keep and view documents. The centre is open Tuesday, Wednesday and Fridays from 10am to 4pm and Thursdays and Saturdays from 10am to 1pm.
Welcome Wednesday sessions cost £7.50 per person and include an introduction to The Keep, a behind-the-scenes tour, parking and tea or coffee.
Numbers are limited so booking is essential. To find out more or to book a place, visit www.thekeep.info/events.