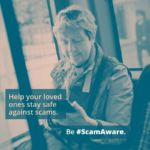 SCAMS targeting vulnerable residents across East Sussex will be highlighted in a series of events as part of a national awareness campaign.
This year's Scams Awareness Fortnight, which runs from June 13 to 24, focusses on cons that take advantage of those already facing financial pressure as a result of the cost-of-living crisis.
Officers from East Sussex Trading Standards will be giving members of the public information about scams and advice on how to avoid becoming a victim at events throughout the fortnight.
Cllr Rupert Simmons, East Sussex County Council's lead member for economy, said: "Sadly, there are some unscrupulous individuals out there who prey on vulnerable members of our communities and con them into handing over their hard-earned money.
"Although our Trading Standards officers work tirelessly all year round to disrupt the practices of these scammers, the Scams Awareness Fortnight gives Trading Standards a platform through which to share further information and advice."
In recent months, East Sussex Trading Standards officers have seen a number of scams targeting vulnerable residents including fraudsters pretending to be energy companies offering deals that are too good to be true, and phishing emails being distributed offering fake Government rebates.
Other attempted scams uncovered by the team include an email asking residents to renew their TV licence by clicking a link, a text message claiming the person has to pay £3 via a link in order to collect a parcel, and a text message claiming to be a grandchild or child needing money after their phone was accidently damaged.
Cllr Simmons added: "With people become more and more aware of scams, scammers are finding new ways to trick people into handing over their details or money and it can be difficult to know whether something is genuine or a scam.
"If a deal is too good to be true, someone has made unsolicited contact or you are simply not sure, do not respond and please do not hand over any money."
Throughout Scams Awareness Fortnight, Trading Standards officers will be giving advice at;
Crowborough Library – Monday, June 13, between 12.30pm and 5pm
Peacehaven Library – Tuesday, June 14, between 10am and 4pm
Wadhurst Library – Wednesday, June 15, between 10am and 1pm
Bexhill Library – Thursday, June 16, between 11am and 4pm
Hailsham Library – Monday, June 20, between 12pm and 4pm
Uckfield Library – Tuesday, June 21, between 10am and 4pm
More information about recognising, reporting and protecting against scams can be found at www.eastsussex.gov.uk/trading-standards/consumer/scams
Ends.