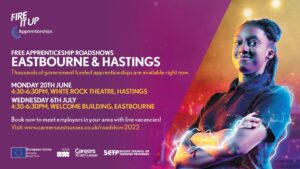 PEOPLE in East Sussex looking for apprenticeship opportunities, jobs or a career change have been given a boost with the return of the Apprenticeship Roadshows.
The Sussex Council of Training Providers, in partnership with East Sussex County Council, are holding events in Hastings and Eastbourne.
The roadshows were unable to take place for the last two years due to the coronavirus pandemic.
The events are being held at the White Rock Theatre, Hastings on Monday, June 20, and at the Welcome Building, Eastbourne on Wednesday, July 6. Both events run from 4.30pm until 6.30pm.
Councillor Rupert Simmons, lead member for economy at East Sussex County Council, said: "Apprentices are making a difference in large and small companies across the County and I'm absolutely delighted that these roadshows are returning to East Sussex.
"The events will bring together employers and training providers, providing up to date information on apprenticeships, from pre-employment through to higher and degree apprenticeships.
"The roadshows will also feature expert panel Q&A sessions, sharing the experiences of apprentices, apprenticeship employers and training providers, as well as access to live vacancies."
Each year around 2,500 apprentices start in East Sussex, providing excellent opportunities for young people beginning their careers and new routes for employees wanting to change direction.
Those attending the roadshows will be able to find out more about traineeships and apprenticeships, including higher and degree level apprenticeships, and meet local employers with live apprenticeship vacancies in their area as well as training providers who can help match people with their perfect placement.
Young people, job seekers and career changers will also be able to speak to advisers about what pathway is right for them and talk to current apprentices about their experiences.
East Sussex County Council, the NHS and a number of local employers will be at the roadshows promoting their apprenticeship opportunities.
Registration for the events is free but spaces are limited. For further information and to register for either event, visit https://www.careerseastsussex.co.uk/information/young-people/apprenticeships/roadshow2022
Employers who would like the opportunity to advertise their vacancies at the roadshows are asked to contact transformroadshow@sctp.org.uk.