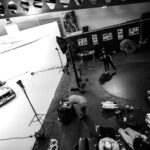 GROWING creative businesses will be able to access business support and finance thanks to the efforts of a regional partnership.
Partners working on behalf of the South East Creative, Cultural and Digital sector have secured funding from the Department for Digital Culture Media and Sport to deliver the Create Growth Programme across the region.
The first of its kind, the Create Growth Programme targets creative businesses with the potential to grow providing support, networking and investment to transform innovative ideas into leading creative businesses.
East Sussex County Council was part of a consortium of local authorities and organisations across the south east which was one of only six to win the award.
Cllr Rupert Simmons, East Sussex County Council's lead member for economy, said: "We truly value our cultural sector businesses here in East Sussex.  Through Culture East Sussex and the South East Creative Economy Network we work tirelessly to champion the sector, working with the DCMS to attract funding that will really meet the sector's needs.
"There was huge competition for these awards and we are delighted to have secured the opportunity for our businesses by joining together with this far reaching South East Consortium. The Create Growth Programme builds on the learning from a pilot programme and we believe it is well designed for the sector. We look forward to working together to make this a success."
Eligible businesses will be able to access an intensive business support programme designed to improve the leadership capacity of pre-scale-up creative businesses, so that they are better placed to access finance, particularly investor finance.  They will also have access to national and regional angel investor networks that are interested in creative industry investment opportunities.
Eligible businesses will be between the seed and scaling stages and will fall into one of the following categories:
Film, TV, Video, Radio & Photography
Design & Designer Fashion
Music, Performing & Visual Arts
CreaTech, Augmented Reality (AR) Artificial Intelligence (AI), Virtual Reality (VR), Extended Reality (XR) and Gaming
The initial two-year programme is currently being set up and will launch in January 2023. Access to the programme is likely to close towards the end of 2024 when the final cohort of businesses will be recruited.
Eligible businesses interested in finding out more and registering an interest can email info@createsoutheast.org.uk
Budget: £1.275m to deliver the South East programme with £7m of additional finance available for businesses to apply to across the six programmes as well as Investor finance – to be negotiated during the course of the programme.
Value of the Creative Industries: In 2020, the UK's Creative Industries contributed c£95 billion in Gross Value Added (GVA) to the UK economy and employed more than 2.3 million people. The Government's Department for Digital, Culture, Media and Sport (DCMS) recognise the benefit of sector specialist business support and, with foundations in the Industrial Strategy, has launched the Create Growth Programme.
The programme delivery will be sector led.  The programme is being managed by a Consortium on behalf of the South East Creative Economy Network (SECEN) which is a Sector led network and a sub-group of the South East Local Enterprise Partnership (SELEP)
Kent County Council (Lead Partner holding the contract with DCMS)
East Sussex County Council
Essex County Council
West Sussex County Council
Basildon Council
Medway Council
Brighton and Hove City Council
Screen South
Wired Sussex
Creative UK
University of Essex Angels@Essex
Creative Estuary
University of Kent