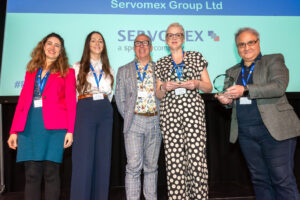 BUSINESSES committed to developing healthier and happier workforces have been celebrated at a special event.
25 businesses across East Sussex were presented with their Wellbeing at Work awards last month at the first annual Wellbeing at Work Conference and Awards event.
120 people from 59 different organisations joined Darrell Gale, Director of Public Health for East Sussex, in Eastbourne on Tuesday, February 28.
East Sussex County Council's Wellbeing at Work Programme was launched in the autumn of 2021.
The scheme works with employers to share resources and deliver training, as well as providing an accreditation scheme which supplies a framework to businesses, to help boost the health and wellbeing of employees.
Crowborough based manufacturer Servomex signed up to the awards shortly after they were launched and received their bronze award in June last year. The company recently achieved the Silver Wellbeing at Work Award and are now working towards the gold award.
Julie Burridge, Health and Wellbeing Manager at Servomex, said: "We take the health and wellbeing of our employees seriously at Servomex and therefore when the opportunity came up to participate in the Wellbeing at Work Awards we jumped at the chance.  These awards are a great way to showcase, promote and realise the work that has been achieved in terms of wellbeing but to also encourage and support further initiatives.
"The programme lays out a great foundation for a Wellbeing Programme within any business and I would highly recommend this programme to other employers.  The Wellbeing at Work team are fantastic and always available to support throughout the process.
"We are proud to have now received the Silver Award to confirm the importance of wellbeing within our business and will now strive to achieve the gold."
Industrial Construction (Sussex) Ltd is the first construction company in East Sussex to be part of the Wellbeing at Work Scheme and were awarded the Small Business Bronze Award in January 2023.
The wellbeing initiatives the company adopted include regular on-site Toolbox Talks for staff and subcontractors on topics such as mental health and musculoskeletal health, and monthly Lunch & Learn sessions where staff come together to refresh their skills and talk about general wellbeing.
Chantalle Sullivan, Office & Supply Chain Co-ordinator and Wellbeing Champion from Industrial Construction (Sussex) Ltd, said: "ICS are very proud to be the first construction company in East Sussex to be part of the Wellbeing at Work scheme and to have received the Bronze Award at the start of this year.
"The health and wellbeing of our staff is very important to us and joining this scheme has given us the framework we needed to co-ordinate and grow our wellbeing initiatives, so we are best placed to support our employees."
Feilo Sylvania achieved the Wellbeing at Work Bronze Award for workplaces with 50 plus employees with innovative interventions such as an active travel map produced in partnership with Living Streets and regular self-led walks around the industrial estate in Newhaven, where they are based.
Adam Woolcock, Senior HR Advisor at Feilo Sylvania and the UK HR Team, said: "As a small HR Team who have implemented a range of wellbeing and staff engagement initiatives, we have found the Wellbeing at Work scheme to be a valuable asset in terms of networking, gaining access to extensive training and local support services, many of which are free, and helping to focus our efforts and strategy in relation to employee wellbeing.
"The Wellbeing at Work team have been incredibly supportive in guiding and supporting us during our bronze accreditation and we've found that having the various criteria to work towards or provide evidence for has helped us to focus and shape our employee wellbeing strategy accordingly. I would highly recommend the scheme to anyone. "
Cllr Rupert Simmons, lead member for economy at East Sussex County Council, said: "It has been fantastic to see so many local employers join our Wellbeing at Work scheme since we launched the initiative.
"Happy and healthy employees are key to the success of any business and I am delighted to see so many local businesses awarded for their commitment to improving the health of their workplaces.
"Investing in employee wellbeing through an awards scheme such as this can improve employee morale, motivation and productivity, as well as reduce absenteeism and staff turnover, and I would encourage all local businesses to join the programme."
There are two award categories, the Small Business Award (for organisations with 2 to 49 employees) and the Business Award (for organisations with 50 or more employees), each with three award levels, Gold, Silver and Bronze.
Employers of any size can also sign up to an optional entry level award, the Wellbeing at Work Commitment.
To achieve awards, companies must complete a set of criteria that introduce policies and initiatives which focus on embedding practices that promote and support employee health and wellbeing.
The programme is open to any business, from any industry, that employs one or more person.
More information about the programme can be found at https://wellbeingatwork.eastsussex.gov.uk