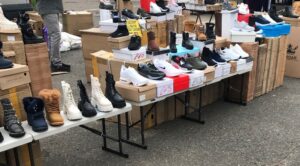 TWO BROTHERS from Kent have been convicted of breaching the Trade Marks Act after being caught selling counterfeit trainers, shoes and boots at Rye Market.
Sukhdeav Singh, of City Way in Rochester, Kent pleaded guilty to 13 counts relating to trademark theft for having in his possession for sale counterfeit footwear with a retail value of over £170,000.
Hardev Singh, 54, pleaded guilty to three counts of breaching the Trade Marks Act, having in his possession for sale counterfeit footwear with a retail value of £36,140 and for selling a pair of counterfeit Nike trainers to an undercover Trading Standards officer.
East Sussex Trading Standards officers visited the market in Rye in October 2021 following information that items being sold by the Singh brothers were not genuine.
Following a test purchase in October and a further visit in December 2021 over 1,000 pairs of fake footwear were seized from the brothers' stalls.
Brands seized included counterfeit Adidas, Converse, Timberland, Dior, Prada, Reebok, Balenciaga, Michael Kors, Nike, Ugg, Chanel, Fendi and Valentino, with a total retail value if genuine of over £210,000.
The brothers pleaded guilty to all offences at Hastings Magistrates Court in February.
Sukhdeav Singh, 57, was sentenced at Hove Crown Court on March 28 to a four-month custodial sentence suspended for one year to run concurrently on each of the 13 counts to which he pleaded guilty and 80 hours of unpaid work. He was also ordered to pay prosecution costs of £1,110 within six months.
His brother, Hardev Singh, of Maidstone Road in Rochester, Kent appeared on April 13 before a lay bench at Hastings Magistrates Court. He was sentenced to a 12 months' community order and ordered to undertake 150 hours unpaid work.
Hardev Singh was also ordered to pay prosecution costs of £750 and a £95 victim surcharge within 28 days.
In sentencing Sukhdeav Singh, Recorder Brock said: "You said you bought [the counterfeit footwear] believing them to be legitimate but didn't carry out sufficient checks.
"I… find that the offending is so serious that only a custodial sentence is appropriate."
Forfeiture and destruction orders were made for all the counterfeit goods received.
Trading Standards has also initiated proceedings under the Proceeds of Crime Act against Sukhdeav Singh which could enable it to recover assets and cash obtained through his criminal activities.
Andrew Clooney, East Sussex Trading Standards team manager, said: "Selling counterfeit goods not only breaches trade marks legislation but harms the trade of legitimate suppliers and damages consumer confidence.
"These convictions are another warning to those involved in the sale of fake goods that we are committed to prosecuting those who persist in this illegal activity."
For consumer advice, or to report a concern to Trading Standards, people can contact the Citizens Advice consumer helpline on 0808 223 1133, or use their online reporting page which can be found at www.eastsussex.gov.uk/trading-standards/contact.