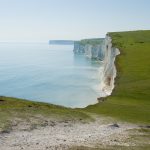 WITH summer on its way East Sussex County Council is reminding people of the risks the county's spectacular cliffs can pose.
Each year thousands of tonnes of chalk fall from the cliffs – which stretch from Eastbourne to Seaford Head – without warning, posing a danger to those on the cliff top and those walking or sitting on the beach below.
Despite the dangers, visitors regularly stand too close to the edge of the cliffs for a photo opportunity or sit at the base of the cliff, beneath the unstable chalk.
East Sussex County Council has again this year teamed up with organisations  along the coast to urge people to take care.
The joint campaign is being promoted by The National Trust, South Downs National Park Authority, Sussex Wildlife Trust, Seaford Town Council, Wealden District Council, Eastbourne Borough Council, Lewes District Council and Rother District Council.
Cllr Claire Dowling, the county council's lead member for transport and environment, said: "We are incredibly lucky to have such a beautiful coastline in East Sussex, which attracts visitors from far and wide.
"But the cliffs are extremely unstable and prone to regular chalk falls, putting visitors at risk if they don't take care when on top of the cliffs or on the beach below.
"We want people to be able to come to East Sussex and enjoy the beautiful surroundings, but to do so safely."
People are also being urged to be aware of tide times to avoid becoming cut off by the incoming tide or being forced to walk too close to the base of the cliffs to avoid the rising sea water.
Incidents of walkers being stranded on the beach after being cut off by the tide happen frequently. Visitors can check the tide times at www.tidetimes.org.uk
If visitors see anyone in danger or witness someone who has fallen, they are urged to call 999 immediately and ask for the Coastguard and not attempt to rescue them.
Ends