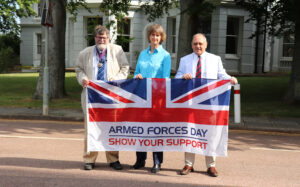 THE ARMED Forces flag has been raised at County Hall in Lewes to mark Armed Forces Day.
The flag will fly all week in recognition of the whole armed forces community, from currently serving troops to Service families, veterans and cadets.
According to data released by the Office for National Statistics from the 2021 Census for England and Wales, over 21,000 armed forces veterans aged 16 years and over live in East Sussex and the county has the fourth highest proportion of veterans (4.6 per cent) in the south east.
Countywide, Rother has the highest proportion of veterans with 5.3 per cent of the population aged 16 years and over having previously served in the UK armed forces.
Armed Forces Day, an annual event which this year falls on Saturday, June 24, intends to raise awareness of the contribution made by the UK's servicemen and women, past and present.
Cllr Bob Bowdler, the county council's Armed Forces Champion and a veteran himself, raised the flag earlier today (Monday, June 19).
Cllr Bowdler said: "We raise this flag every year to honour the commitment and dedication shown by our armed forces, and especially those from East Sussex.
"As a nation we owe so much to the men and women of the Royal Navy, British Army and Royal Air Force, and Armed Forces Day provides us with an opportunity to show our support for all those who serve."
In 2018, the county council was awarded a silver award under the Defence Employer Recognition Support Scheme for the support it gives to the local armed forces community. The national scheme honours employers that show a commitment to supporting current and former military personnel.
The award was in recognition of the support the council gives to armed forces cadet volunteers, and to members of the Army Reserve who receive 18 days paid leave every year to undergo military training, and the way the authority has trained members of staff as armed forces 'champions' under the MoD-funded Forces Connect South East programme.
The council is also a signatory to the Armed Forces Covenant, a promise that those who have served in the armed forces are treated fairly and suffer no disadvantage.
More information about Armed Forces Day is available online at www.armedforcesday.org.uk