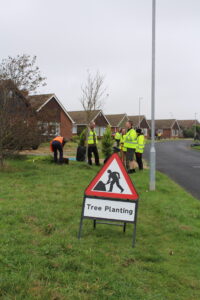 FUNDING from the national Local Authority Treescapes Fund will see more trees planted across the county as the council continues its efforts to address the climate emergency.
Nearly £300,000 of funding from the Forestry Commission has been awarded to the county council, following a successful joint bid with Lewes District Council and Eastbourne Borough Council for tree planting projects.
The grant, from the third round of funding for this scheme, brings the total amount secured by the county council from the Treescapes Fund over the last three years to nearly £900,000.
Urban trees have a huge range of benefits, both for wildlife and for people, and this funding will see over 120 street trees planted in the towns of Seaford, Lewes and Eastbourne.
The project will also include the planting of up to 20,000 trees on the downland fringes between Eastbourne and East Dean and the planting of a number of trees in Chailey parish. Many of the trees planted will be looked after by the volunteer groups Trees for Seaford and Friends of Lewes.
The project will be delivered over two years starting this winter and allows for three years of maintenance to ensure the successful establishment of the trees.
Cllr Nick Bennett, East Sussex County Council's Deputy Leader and Lead Member for Resources and Climate Change, said: "We are delighted to have received this funding from the Forestry Commission which will help us boost our urban tree population.
"Trees are important to our ecosystems on so many levels. As well as being good for our mental health, they also help to clean our air, mask noise, absorb greenhouse gases, reduce flood risk and provide shade and protection. Trees also provide valuable wildlife corridors which can bring the countryside into the town."
The county council declared a climate emergency in 2019 and is committed to becoming carbon neutral by 2050 at the latest.
To reduce its carbon footprint and energy bill, the council has delivered over 240 projects since the 2008/2009 financial year. Projects include low energy lighting, heat pumps and solar panels. Last year solar panels were installed on a further seven council buildings.
The county council has committed to investing nearly £10m over three years to support the efforts to cut corporate carbon emissions and continues to work to identify projects and additional funding that will help it become a carbon neutral authority.
Cllr Bennett continued: "Becoming carbon neutral is not something that can happen overnight or that we can achieve on our own, but we have made huge progress.
"Reducing our carbon footprint is non-negotiable. We have been working hard over the last few years on a range of projects that reduce carbon emissions across the county, from assisting those in fuel poverty and providing grants to businesses to cut carbon, to improving local bus services, all of which will help us reach our goal."
More information about the actions the council is taking to cuts its carbon footprint can be found at https://new.eastsussex.gov.uk/environment/priorities