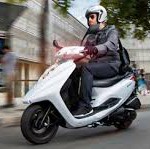 Residents struggling to get to work, training or education will be given a helping hand thanks to the launch of a transport loan scheme.
East Sussex Wheels 2 Work was officially launched on Wednesday 11 September, 2013 and will offer the loan of a motorcycle, moped or electric cycle to help residents with the daily commute, alongside a motorcycle dealership offering MOTs, maintenance and repairs services and a training room facility for hire.
The scheme became reality after East Sussex County Council successfully bid for £3.7million of funding from the Department for Transport's Local Sustainable Transport Fund to deliver a number of measures across Lewes, Newhaven and Eastbourne to support economic growth together with cutting carbon emissions.
"East Sussex is a rural county, which makes it difficult for some people to travel to work, education or training," said Councillor Rupert Simmons, lead member for economy.
"Wheels 2 Work is more than a motorcycle loan scheme, it will change people's lives in East Sussex supporting them to get to their place of employment and improve their opportunities to develop the right skills by providing access to education and training.
£1m of the Government funding has been used to set up East Sussex Wheels 2 Work, as a not for profit organisation.
Max Jowett who is the chief executive of the East Sussex scheme said: "This is a unique scheme in the UK and the Government has urged us to move towards self-sustainability and this scheme is likely to achieve that, while also offering a great community facility to local bikers and the general public.
"We recognise that these schemes are a vital tool in helping particularly the long term unemployed people into work or training. We run a similar scheme in Devon and we have pioneered this model and have now brought this exciting new concept to East Sussex. We look forward to driving the new programme forward and leading Wheels 2 Work development in the UK."
The vehicles loaned will be checked every 6 weeks to ensure they are safe and reliable and there will be an option to buy the vehicle on loan after a minimum of three months. The company is based in Redward Business Park in Hammonds Drive, Eastbourne.
East Sussex Wheels 2 Work will be engaging with local colleges, training providers, work programme providers and job centre plus to offer the scheme to potential clients.
Anyone interested in applying or finding out more about the scheme can email admin@eastsussexwheels2work.co.uk or call 0845 0944 308.