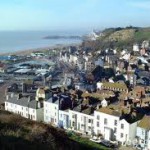 Residents in Hastings are being consulted on plans to improve roads and pavements in the Old Town.
East Sussex County Council is asking people for their views on proposals aimed at cutting road accidents, improving traffic flow and creating a safer environment for pedestrians.
Earlier this year, the authority carried out a study to examine the impact of the opening of the Jerwood Gallery on traffic levels in the Old Town area and to consider options for improving pedestrian facilities and limiting the amount of through traffic travelling through High Street.
The proposals, which will be presented at a public exhibition and online consultation, include improving the pavements, revising on-street parking arrangements, speed reduction measures and reversing the existing one-way system in a section of High Street and in Courthouse Street.
The council hopes the plans will deter vehicles using High Street as a through route.
Cllr Carl Maynard, county council lead member for transport and environment, said: "Residents have told us that motorists using High Street has been an increasing problem recently.
"The measures we're proposing are aimed at making Old Town a more attractive place for pedestrians, which will help the local economy by encouraging more people to visit the Old Town.
"With any scheme like this it's vital we take into account people's opinions and that's why we're hoping as many people as possible will come along to the public exhibition and take part in our consultation."
Proposals in the consultation include:
– Reversing the existing one-way system in High Street, between George Street and Roebuck Street, and in Courthouse Street
– Revising on-street parking arrangements
– A new pavement at the lower end of High Street, on the western side of the road, from the junction with George Street to join with the existing footpath towards Swan Terrace
– Widening the pavement on the eastern side of High Street
– Extending the section of raised road surface in High Street across the junction with George Street
– Increasing the pavement width at the junction of High Street with the A259 to reduce vehicle speeds
– A raised road surface in the High Street outside the Old Town Hall Museum
The public exhibition will be held at St Mary Star of the Sea Church Hall on Friday 18 October 2013 from 2pm to 8pm and Saturday 19 October 2013 from 10am to 4pm.
People attending will be able to complete a questionnaire, which will also be available online on the consultations section of the council website from Friday 18 October 18 2013 until Friday 15 November 2013.