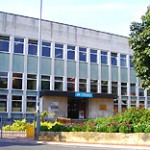 Library users in Eastbourne are being advised of some minor disruption to services as a programme of refurbishment reaches its conclusion.
The work, which begins on Monday 21 October 2013 is the final stage in a long-term redevelopment of Eastbourne Library, in Grove Road.
It will include redecoration of the second floor area outside the reference library, including the installation of a new ceiling and lighting, and refurbishment of the public toilet.
While this work is carried out, there will be no access to the reference library via the lift and the public toilet will be out of action.
Cllr Chris Dowling, East Sussex County Council lead member for community services, said: "With any work like this, there will be some disruption, but we'll be doing everything we can to keep this to a minimum.
"We'd ask our customers to bear with us while this work is carried out. This will complete the refurbishment of the library, allowing us to offer an improved service and a more attractive environment for library users."
The work affecting public areas is due to be finished by Wednesday 30 October 2013. During the work, staff will be available to assist customers who wish to access material from the reference library.
Further work on refurbishing staff and administrative areas of the library will continue into November, but this will not affect services.
Previous improvements to the library in the past year have included refurbishing the foyer, first floor library area and committee room and opening a new second-hand bookshop.
More information is available by calling the council's libraries service on 0345 60 80 196 or online