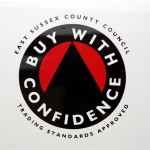 RESIDENTS in East Sussex are being warned to be wary of doorstep 'cowboys' in the wake of damage left by the storm which battered the county.
East Sussex County Council's Trading Standards team is warning people not to be taken in by unscrupulous traders who may try and profit from damage caused by winds of up to 80mph.
Householders are urged not to allow themselves to be rushed by cold callers into making a hasty decision about repairs to fallen trees, damaged roofs and broken fences.
They are advised to use a door chain or window to talk to people they don't recognise, check the identity of any business person coming to the door and where possible use a reliable local trader, preferably one belonging to the county council's Buy With Confidence scheme.
James Harris, county council acting director of economy, said: "If people were unfortunate enough to have damage caused to their property during the storm, the last thing they need is to have the problem compounded by falling victim to unscrupulous traders.
"It's tempting to go for a 'quick fix' offered by a caller at the door, but people should resist the temptation to be rushed or pressured into making a decision.
"It's always best to use a reputable local trader and the best way to be certain of this is to use one of the businesses accredited under the Buy With Confidence scheme."
Rogue cold callers may overcharge by giving misleading information about the value of work or charging a higher price than agreed, carry out unnecessary work, provide poor quality goods, materials or services or ignore phone calls if something goes wrong.
The Buy With Confidence scheme lists businesses across East Sussex which are subject to stringent checks to ensure they comply with consumer protection laws. Watch our video of a case study from Eastbourne:
More information is available online at www.eastsussex.gov.uk/buywithconfidence while a free copy of the Buy With Confidence approved trader directory is available by calling 01323 463440 or emailing buywithconfidence@eastsussex.gov.uk
Anyone who is suspicious about the trading practices of a cold caller who visits them, a family member or neighbour is asked to call the Citizens Advice consumer helpline on  08454 040506.