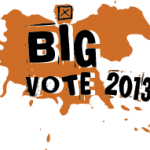 YOUNG people across East Sussex are heading to the polls to elect their representatives on the county's Youth Cabinet.
Voting begins on Monday, November 4, for the Big Vote 2013, which sees 38 candidates aged 11 to 16 vying for 20 cabinet seats. Almost 9,000 people cast their vote in the last elections two years ago, with voting this year set to take place online and in polling stations at schools, colleges and youth groups. 
Candidates have the chance to represent their peers for the next two years and to campaign on issues which affect their lives.
Cllr Sylvia Tidy, East Sussex County Council lead member for children and families, said: "The youth cabinet has been very successful in ensuring decision makers know what matters to young people.
"This year, there is a real varied mix of candidates of different ages and backgrounds, but the thing which they all have in common is they care passionately about making a difference to the communities they live in.
"We'd encourage as many people as possible to vote to ensure they receive the cabinet reflects their views and campaigns on the issues which affect their lives."
The achievements of the current Youth Cabinet include work on developing a new '3i-D' card, functioning as an identity card and offering additional discounts on bus travel and in shops and leisure outlets.
The cabinet has also helped to organise a youth conference and workshops aimed at discussing, tackling and preventing bullying and delivered a presentation to the senior county council cabinet on how the authority's spending proposals would impact on young people.
Voting runs until Tuesday, December 3, with the newly elected members to be congratulated at an event at the Winter Gardens, in Eastbourne, on Thursday, December 12.
Young people aged 11 to 18 who live, learn or work in East Sussex will vote in paper ballots or online using a unique code provided by their school, college or youth group.
Anyone who is eligible, but isn't at school or college can contact the county council's equality and participation team to get their voting code by calling 01273 335250 or emailing participation.team@eastsussex.gov.uk
Details of all the candidates, including videos outlining why people should vote for them, are available online at www.connexions360.org.uk/bigvote
Candidates are standing in the following areas:
Bexhill and Hastings – 7 candidates (4 seats available)
Coastal – 3 candidates (2 seats available)
Eastbourne – 7 candidates (4 seats available)
Lewes – 4 candidates (2 seats available)
Upper Rother – 7 candidates (2 seats available)
Wealden – 8 candidates (4 seats available)
Special Education Needs schools – 2 candidates (2 seats available)