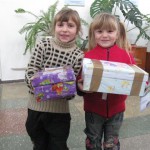 ORPHANS in Eastern Europe will receive gifts this Christmas thanks to the efforts of volunteers and young offenders from East Sussex.
Every year, the reparation team from East Sussex County Council's youth offending service supports the Love In A Box project organised by Eastbourne-based charity the Mustard Seed Relief Mission.
Volunteers – including young people carrying out community-based reparation work as part of their court orders – have begun packing boxes filled with gifts and essential items destined for youngsters in orphanages in Bosnia and Ukraine.
The gifts, which are donated by local schools, churches and voluntary organisations, are the only presents the youngsters, aged between three and 15, receive at Christmas.
Cllr Sylvia Tidy, county council lead member for children and families, said: "This scheme offers a fantastic opportunity for young people who have been in trouble in the past to do something really positive and rewarding.
"Some tell us they have never worked so hard but they really enjoy working alongside volunteers and are treated as part of the team. It helps them develop positive relationships and boosts their confidence and self-esteem.
"They are often shocked to discover that there are children who, without the efforts of everyone involved in this project, would not receive any presents at Christmas, and they get a real sense of satisfaction of doing something to help them."
Young offenders help sort out all the donated items at the charity's warehouse in Eastbourne, packing boxes as fully as possible with basic items such as toiletries, hats and scarves before filling them with sweets and toys.
They then help pack the boxes securely ready to be loaded onto four lorries, driven by volunteers, for the long road trip overseas.
Anyone who would like to work as a volunteer with the reparation team is asked to contact Ben Wyatt by emailing ben.wyatt@eastsussex.gov.uk
More information about the Mustard Seed Relief Mission is available online at www.msrm.org.uk