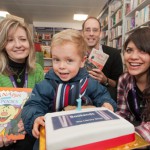 THERE were celebrations and plenty of cake at Eastbourne Library this week as their secondhand bookshop marked its first year in business.
Bookends, which is run and managed by volunteers, was set up in the foyer at the Grove Road site in December last year selling ex library books, DVDs and CDs.
The shop proved such a success that the format is set to be rolled out to other libraries in the county.
As well as selling some great stock to its customers, the income generated in Bookends goes back into the library service and helps to purchase new stock.
Cllr Chris Dowling, the county council's lead member for community services, said: "It's great to see Bookends thriving. It's a great asset to our library service and helps Eastbourne Library make the best use of its resources.
"The venture has been so successful that we now want to offer it to a wider audience, at different libraries. We hope that it will work as well in other areas of the county as it has in Eastbourne."
To mark its first birthday, Bookends has a 'three for the price of two' offer on adult fiction, CDs and sheet music throughout December.
The shop is open Mondays to Thursdays from 9.30am to 5pm, Fridays from 10.30am to 5pm and Saturdays from 9.30am to 4.45pm. The shop sells ex library books, DVDs and CDs, greetings cards, local history photographs and other gifts.