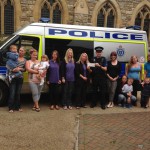 FAMILIES with young children living in poor accommodation could benefit from free weekly drop-in sessions being held at an Eastbourne church.
The sessions, which run every Thursday from 10am to noon at All Saints Church Hall, in Grange Road, are open to parents with children aged up to five years old who are homeless or living in temporary or sub-standard accommodation.
Organised by Eastbourne Children's Centres, the sessions offer parents and youngsters the chance to socialise, while they also receive advice and support and a free hot meal provided by the church.
Meanwhile, there are also regular visits from other agencies offering advice on issues such as finding a home, job or getting information on training and family health matters.
Cllr Sylvia Tidy, East Sussex County Council lead member for children and families, said: "This is a good example of organisations working together to offer a valuable opportunity for families living in temporary accommodation.
"Our children's centre staff and the church do a fantastic job in providing a safe, welcoming environment where parents and youngsters can get together, socialise, have a hot meal and receive information and support on a whole range of issues.
"Many parents who attend the sessions find it helps them to build their confidence and take the steps they need to find a permanent home, while children can improve their language and social skills by being around other youngsters.
"The sessions have really helped a lot of young families but there are still people out there who aren't aware that this service exists – these are the people we need to reach out to."
Organisers of the drop-in sessions enjoy close links with local organisations including Sussex Police, who recently donated £200 to the scheme.
The sessions are open to siblings older than five years old during the school holidays and in exceptional circumstances.
More information is available by dropping into the sessions or calling Lyndsey Bedford on 07827 980190 or Claire Charlwood on 07557 748617.