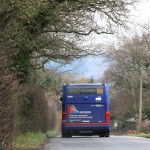 CHANGES to supported bus services and concessionary bus passes in East Sussex have been approved by senior councillors.
East Sussex County Council's cabinet voted to press ahead with a series of changes aimed at reducing the authority's transport budget by £2.23 million over the next three years.
At its latest meeting, held at County Hall on Tuesday (10), cabinet also approved the development of a Public Transport Services Commissioning Strategy to shape the future of supported bus travel in the county.
Under the changes, the start time at which concessionary bus pass holders can use their pass on weekdays will move from 9am to 9.30am, in line with national rules, while negotiations will be held with bus companies to explore turning some subsidised routes into commercial routes.
A concession which allows concessionary pass holders in Lewes district to travel for free on dial-a-ride services, a legacy of former district funding, will be removed, bringing Lewes into line with the rest of the county.
Meanwhile, the council will consult on changing the eligibility criteria for companion passes, which allow disabled people who need help using the bus to be accompanied by another person travelling free of charge.
The changes follow a public consultation held in the summer which attracted more than 2,600 responses.
Cllr Carl Maynard, council lead member for transport and environment, said: "The message we received from the public was that retaining supported bus services and the concessionary scheme was more important than issues such as moving the start time at which passes can be used.
"These changes, which will affect a minority of people, are a sensible and pragmatic way of addressing the need to make savings, while avoiding the need for immediate, significant changes to the bus services we fund.
"The strategy which we will now initiate will provide us with a clear framework of priorities for the future of supported bus travel, and any changes to bus and community transport routes which follow from this will be consulted on next year."
The county council has a target of saving £2.23 million from its transport budget over the next three years – £570,000 in 2014-15 and £1.66 million in the following year.
The authority has already saved £227,000, or 40 per cent, of the amount it needs to save in 2014-15, through the retendering of supported bus services in the Lewes area and a joint contract with West Sussex County Council to administer the concessionary fare scheme.
– There are currently 125,000 concessionary bus passes in circulation in East Sussex, including 2,064 companion passes
– Around 8.2 million of the total 21.3m bus journeys in East Sussex each year are concessionary journeys
– Full details of the changes can be found in the cabinet papers online at www.eastsussex.gov.uk/yourcouncil/about/committees/meetingpapers/cabinet/2013/10december.htm