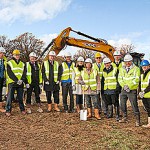 THE start of work on a multi-million pound development to enable older people to live independently in the community was marked with an official ceremony.
The first sod was turned at the Battle Road site in Hailsham, which will provide extra care housing for older people with care and support needs.
The project, which is due to be completed in summer 2015, represents a partnership between East Sussex County Council, Wealden District Council and Saxon Weald, the housing association that will own and manage the extra care scheme.
The development will include 45 flats, a mixture of one and two bedrooms available for shared ownership or affordable rent, a restaurant, hairdressing room and communal areas, some of which will be available for community use.
An additional development of ten flats for people with learning disabilities will also be provided on the site, with 24 hour on site care to enable the residents to live independently with support.
Cllr Bill Bentley, the county council's lead member for adult social care, said: "This scheme will enable older people to live in the community with independence, but with the peace of mind that help is close at hand.
"East Sussex County Council has worked with partners to drive forward the development of extra care schemes. They offer a great alternative to residential care and high cost community care for older people, allowing couples to continue to live together and helping to combat social isolation."
The county council has worked with partners on five extra care schemes, with Hailsham being the sixth in the ambitious programme of development.
When the project is complete, residents at the Battle Road site will be able to take advantage of a 24 hour on-site care and support team commissioned by the county council and housing support form an on-site scheme manager.
David Standfast, chief executive of Saxon Weald, said: "This extra care scheme will enable frail and vulnerable older people to live independently and with dignity.
"We're very proud of the high-quality schemes our contractors Denne have already built for us in Peacehaven, Uckfield and Eastbourne, which are now flourishing and supportive communities. I know Hailsham will be another scheme where people can live safely and well."
Cllr Graham Wells, Wealden's Cabinet member for Housing, added: "We are pleased this new approach to independent care for older people is coming to Hailsham,
"As Hailsham and the surrounding area continue to grow, this new facility will enable local people to continue to stay in their own communities as their need for care increases."
The sod turning ceremony was attended by the Mayor of Hailsham, Cllr Jo Bentley, East Sussex County Council's lead member for adult social care, Cllr Bill Bentley and representatives from other partners in the scheme.