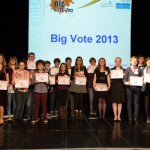 YOUNG people in East Sussex have made their voices heard by electing the county's new Youth Cabinet.
A total of 11,347 votes were cast – an increase of almost 2,400 from the last election in 2011 – with 20 cabinet members selected from 38 candidates.
The successful candidates, who were congratulated at an event at the Winter Garden, in Eastbourne, will represent their peers for the next two years.
Seaford Head School pupil Jessica Batchelor, elected to serve the Coastal division, said: "I can't wait for all the experiences and all the opportunities which await me in the Youth Cabinet.
"I have met some amazing people already and know that this will be the best two years of my life. The people are awesome and I know that what's ahead will be amazing."
The month-long election saw 4,114 votes made online and 7,233 paper ballots cast at polling stations at schools, colleges and youth groups.
The achievements of the previous Youth Cabinet include work on developing a new '3i-D' card, functioning as an identity card and offering additional discounts on bus travel and in shops and leisure outlets.
The cabinet also helped to organise a youth conference and workshops aimed at discussing, tackling and preventing bullying and delivered a presentation to the senior county council cabinet on how the authority's spending proposals would impact on young people.
Cllr Sylvia Tidy, East Sussex County Council lead member for children and families, said: "I am absolutely delighted to see so many young people taking the trouble to make their votes count.
"It shows great promise for the democracy in this country that young people are being encouraged to vote and the level of interest shown in the election once again demonstrates that young people are interested in making a difference on the issues which affect their lives.
"The previous Youth Cabinet played a very active role in ensuring decision-makers know what matters to their peers and I'm sure the new intake will continue their good work."