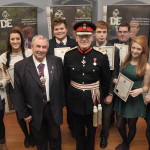 YOUNG people from East Sussex have set the gold standard after receiving the highest possible accolade under a youth achievement scheme.
The accomplishments of the county's 44 recipients of The Duke of Edinburgh's Award (DofE) gold award were recognised in a presentation event held at Herstmonceux Castle.
The DofE programme, which is administered locally by East Sussex County Council, supports the personal development of young people through volunteering, skills, expeditions and physical accomplishments.
The evening included a presentation by University of Brighton student Chloe Braybrook, from Eastbourne, who talked about her involvement with a group which runs residential camps for disadvantaged children.
Cllr Nick Bennett, East Sussex County Council lead member for learning and school effectiveness, said: "I've always believed that the best way for young people to advance in life is not just through academic excellence but through developing broad life skills.
"Completing the Duke of Edinburgh's Award enables participants to develop new talents, meet new people and give something back to the community.
"By achieving the Gold award, these young people have demonstrated commitment, dedication and resourcefulness – skills which can be put to use in whichever field they go into in the future.
"I'd like to commend all the Gold achievers and the volunteers and staff across the county who give up their time, energy and enthusiasm to deliver the DofE programme in East Sussex."
The DofE is open to all young people aged 14 to 24, who must show persistence, commitment and personal development to receive an award at one of three progressive levels – bronze, silver and gold.
All levels of the award include sections on volunteering, skills, physical activity and expeditions, while the gold award includes a residential element where young people stay away from home and undertaking a shared activity with other people.
The county council runs a network of DofE centres across the county, including at schools and colleges, youth centres and voluntary organisations.
The presentation evening, held on Monday, December 16, was hosted by Cllr Colin Belsey, East Sussex County Council chairman, with the awards presented by Peter Field, Lord Lieutenant of East Sussex
The Gold award holders, and their home town, are listed below, grouped by the centre at which they completed their award:
Battle Abbey School, Battle
Samuel Bunday (Hastings)
Danielle Edmunds (Hastings)
Oliver Rowatt (Ninfield, nr Battle)
University of Brighton, Eastbourne Campus
Chloe Braybrook (Eastbourne)
Eastbourne College
Katherine Allan (Friston)
Oliver Bensted-Smith (Tunbridge Wells)
Amy Corfield (Eastbourne)
John Dowling (Cranbrook)
Ella Harriott (Dallington, nr Heathfield)
Alex Hodges (Battle)
Elizabeth Hodkinson (Eastbourne)
Tom Kirwan (Crowborough)
Kenneth Lam (Eastbourne)
Jonathan Langer (Battle)
William Langer (Battle)
Siana Pendelbery (Eastbourne)
Alex Simpson (Eastbourne)
Eastbourne Open Award Centre
Frances Timberlake (Friston)
Heathfield Youth Centre
Olivia Streeter (Heathfield)
Invicta Open Award Centre, Bexhill
Joshua Bruton (Ore)
Lucia Suggitt (Hastings)
Matthew Suggitt (Hastings)
Harvey Taylor (Bexhill)
Sussex Association of Spina Bifida and Hydrocephalus (SASBAH), Eastbourne
Clyde Barnett (Eastbourne)
St Leonards-Mayfield School, Mayfield
Elinor Bushell (Tunbridge Wells)
Uckfield Community Technology College
Naomi Sanders (Hailsham)
Eleanor Watson (Uckfield)
Welcome Church, Heathfield
Timothy Aucock (Heathfield)
Greg Ball (Heathfield)
Joe Benians (Cowbeech, nr Hailsham)
Bryony Brooks (Heathfield)
James Cole (Heathfield)
James Davies (Heathfield)
Alex Goodsell (Cross in Hand, nr Heathfield)
Liam Gordon (Tunbridge Wells)
Robert Goswell (Heathfield)
Daniel Hilton (Heathfield)
Daniela Hofer (Blackboys, nr Heathfield)
Daniel Miller (Broad Oak, nr Heathfield)
George Moody (Burwash)
Samuel Northwood (Heathfield)
Daniel Tyler (Heathfield)
Jonathan Wood (Uckfield)
William Parker Academy and Parkwood Sixth Form College
Jennifer Cottrell (Hastings)