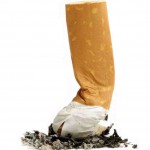 THE toxic chemicals in cigarette smoke are causing serious damage to your body – that is the message to smokers in East Sussex.
The national Smokefree Health Harms campaign, supported by East Sussex County Council's Public Health team, highlights the increased risk of a heart attack, strokes and dementia among smokers.
Smokers are twice as likely to die of a stroke as non smokers. The chemicals in cigarette smoke make your arteries thinner, your blood thicker and they increase your heart rate. Together, these changes increase your chance of having a heart attack or stroke.
Arsenic and hydrogen cyanide are just two of the chemicals in cigarette smoke that flow through the body damaging the heart, lungs and cells in the brain and can lead smokers to experience poorer memory in later life.
Cynthia Lyons, acting Director of Public Health said: "Smoking is a major cause of premature death, with one in two smokers dying early from smoking related diseases.
"In East Sussex, it is estimated that more than 84,000 people smoke and may not be aware of the potential damage being done to the brain and other vital organs.
"While the health risks associated with smoking are worrying, if a smoker kicks the habit their risk of stroke can be reduced to the same as a lifetime non-smoker within five years."
Help is available through local NHS Stop Smoking Services in East Sussex. Qualified, friendly advisors offer advice, support and medication that is clinically proven to help smokers quit.
You are four times more likely to successfully quit with using NHS Stop Smoking Services. To find out about support available to smokers who want to quit, call 0800 917 8896 or visit www.stopsmokingineastsussex.co.uk/about-smokefree
Estimated number of smokers by district/ borough:
Eastbourne – 16,989
Hastings – 19,240
Lewes – 15,701
Rother – 10,436
Wealden – 21,665
East Sussex total – 84,031
Source: ASH (Action On Smoking and Health) – 2012
Number of smoking related deaths per year:
Eastbourne – 202
Hastings – 184
Lewes – 176
Rother – 206
Wealden – 276
East Sussex total – 1,044
Source: Health Profiles 2012 (Public Health England)