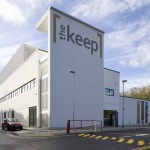 THE Keep, a new state-of-the-art, purpose built archive centre is hosting an Open Day on Saturday, February 1 from 11am to 3pm.
The programme of events will give adults and families the opportunity to find out more about the multi-million pound facility in Moulsecoomb, which houses records from East Sussex Record Office, Royal Pavillion and Museums and the University of Sussex Special Collections spanning over 900 years.
On the day, events include tours of the new building, talks and conservation demonstrations, as well as storytelling sessions and hands on activities for children.
Tours of The Keep and its collections will give visitors a behind-the-scenes look at the strongroom and conservation studio. Tours run at 11am, 12, 1pm and 2pm, for 40 minutes.
Visitors can find out how to use The Keep website to start a research project and access collections in 40 minute sessions. Places need to be booked in advance.
Children will be able to make their own family book using maps, diaries and photographs, learn how to be a conservator and have a go at cleaning treasures and make their own Roman charm.
The Sussex Family History Group and other family history societies from across the county will also be at hand to offer guidance on researching family history.
Activities are free, but booking at The Keep reception is required for some workshops and tours. For more information or to book an event visit http://www.thekeep.info/ or call 01273 482349.