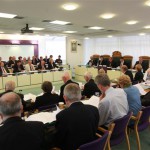 A PLAN to keep open three closure-threatened waste sites in East Sussex has been approved by councillors.
Household waste and recycling centres in Forest Row, Wadhurst and Seaford had been facing closure as part of East Sussex County Council's bid to make savings of around £70 million over the next three years.
However, the three sites will now remain open for three days a week after the council's cabinet backed an alternative plan, following a public consultation on the issue.
The sites will open on Fridays, Saturdays and Sundays, the three days of the week when around two thirds of visits take place.
On the remaining four days of the week, there are alternative facilities within 10 to 20 minutes' drive of the three affected sites.
The measures form part of the East Sussex Waste Strategy, which reviews how the county's waste will be managed up until 2025.
The authority will now look at alternative means of achieving the remaining savings it needs to make from its waste management budget.
Cllr Carl Maynard, county council lead member for transport and environment, said: "The whole purpose of carrying out a consultation on this issue was to give us a clearer idea of the level of demand for these sites.
"We're very grateful to everyone who took part in the consultation and their views have helped us to come up with a revised plan which balances the requirement to make savings with local need for services.
"The need to reduce our waste budget has not gone away, but it's important that we have a flexible approach which is able to adapt to fresh evidence and respond accordingly.
"The changes at these three sites are just one part of the county's overall waste strategy, which will see us aim to divert more than 95 per cent of waste from landfill, making East Sussex a greener and more energy-efficient county."