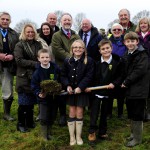 GROUND has been broken on a project to provide Etchingham with a new primary school and community facility.
The replacement school will be funded by East Sussex County Council and is part of a wider development which will include community facilities to replace the village hall, and new homes. The Parish Council, with the landowner, is contributing to the replacement of the village hall.
The county council, Diocese of Chichester, Etchingham Parish Council and Etchingham Trust for Sports and Recreation have been working in partnership with the landowner and the landowner's appointed developer, Millwood Designer Homes Limited, to create the mixed development on land known locally as the Lambing Field.
Cllr Nick Bennett, lead member for learning and school effectiveness, said: "I am delighted to see the project reach this stage and excited to see the building take shape.
"This is a great example of local organisations working together to give the community what it needs. We have worked hard with our partners to get to this stage and have had fantastic support from the local community.
"This is a significant development for Etchingham and a new school and village hall will mark a new chapter in the village's history. I'm delighted we're going to be able to provide the village with a new school fit for 21st Century learning."
John Barnes, chairman of the Etchingham Trust said: "I would like to thank the landowners for joining in with the project back in 2005 and the county council whose decision to go ahead with the new school was the key to delivering the whole of this very exciting project which will provide the village with a new school, dedicated playgroup facilities, indoor sports, stage and a new community hall."