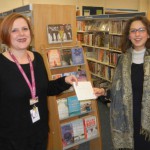 RESIDENTS' views will be used to shape services to be offered at the new Hastings Library.
East Sussex County Council asked for people's opinions about their priorities for library service provision and preferences for opening hours.
A total of 1,233 people responded by completing a short survey or submitting their comments on a postcard or post-it note.
The most important services, according to respondents, were a good choice of books and access to information on local services, groups and events. Convenient opening times during the week and on Saturdays were also highlighted.
The council is developing the existing library in the Brassey Institute and expanding into the neighbouring building, 12 Claremont.
The move will bring together the existing children's and adults' libraries under one roof, while the town's Register Office will also move into the new building.
Cllr Chris Dowling, county council lead member for community services, said: "We'd like to say a big thank you to everyone who took part in the consultation and their views will influence how the new library takes shape.
"This development, part of our £15 million investment in library services, will create a flexible, modern library in the heart of town.
"It will also offer modern facilities for the registration of births and deaths and fully-equipped ceremony rooms for marriages, civil partnerships, naming babies and renewing vows."
As part of the consultation, postcards were distributed to homes across Hastings and St Leonards to raise awareness of the new library and people could enter a prize draw to win shopping vouchers from Morrisons.
Stephanie Lewis, from Hastings, was the lucky winner whose name was drawn from the hat and received her prize from library manager Kerry Jackson (pictured).
The library remains open while work is underway on the new development, which is expected to be completed in 2015.
A full report on the consultation is available on East Sussex County Council's consultation pages.