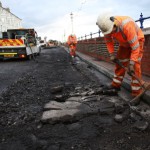 MORE than £50 million will be ploughed into repairing the county's roads over the next two years following the wettest winter on record.
The unprecedented level of rainfall in recent months has taken its toll on the 2,000 miles of roads across East Sussex and the county council has put aside additional funds to address the damage caused by the winter weather.
At a meeting earlier this month council members approved a £40million investment over the next two years, £10 million of which will be targeted at unclassified roads.
This is on top of £6.5 million set aside for the maintenance and improvement of pavements and highway drainage and £2.25 million approved for pothole repairs.
This week, the Government added a further £2,645,187 to the total as part of its £180 million fund to repair roads.
"The road network is vital to the prosperity of the county and the latest investment recognises this," said Cllr Carl Maynard, East Sussex County Council's Lead Member for Transport and Environment.
"Maintenance of our roads is a priority for the county council and £10 million of the additional investment has been ear-marked for unclassified roads, including many of our smaller roads and lanes that support a wealth of small businesses."
Cllr Maynard added: "We are delighted that the Government has confirmed the £2.6 million payment which will boost our efforts to repair the winter damage to our roads throughout East Sussex."
This latest announcement brings the total value of county council investment in roads since 2010 to more than £100 million.
"The investment in roads in recent years is paying dividend and we are not seeing potholes forming in recently resurfaced roads," Cllr Maynard said. "But the wet weather we have experienced since Christmas has caused an unprecedented amount of damage to many of our roads."
Since January the county council's highways team has employed more than three times the usual number of maintenance workers to deal with road issues. As well as dealing with drainage problems and fallen trees, these teams have repaired more than 15,000 potholes.
A two-year programme of resurfacing more than 400 roads is being drawn up and will be published on the county council's website.