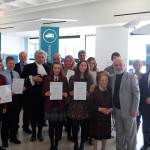 STUDENTS who are bringing music into the lives of hospital patients in East Sussex enjoyed the chance to meet a world-renowned piano teacher.
The students, from Hastings and Rother, Lewes and Eastbourne, met Dame Fanny Waterman during a ceremony at the Conquest Hospital, in Hastings.
They were being presented with certificates of commendation for their commitment to providing live music to patients and visitors at the Conquest and the Eastbourne District General Hospital (EDGH).
The group have been nominated as musicians in residence for 2014 at the hospitals, where they will play independently or as part of a small group.
The ceremony, with certificates presented by Graham Peters, High Sheriff of East Sussex, marked the latest chapter in a story dating back to 2004, when Dr Richard Wray, consultant cardiologist, introduced live music at the Conquest.
Richard Sigsworth, acting head of the East Sussex Music Service, said: "We believe this is the only example in the country of a regular programme of live music being offered at hospitals throughout the year.
"Music has great benefits both in aiding patients at the hospitals in their recovery and putting visitors at their ease.
"Dame Fanny is a legendary figure in the world of music and she was very impressed with our students and the valuable role they're playing at the hospitals."
Students Ollie Grange and Isobel Richardson, from Battle Abbey School, Charlotte Thorkildsen and Carla Flack, from Bexhill College and Pasha Milburn and Philip Benge, from East Sussex Academy of Music, in Lewes, will be musicians in residence at the Conquest.
Meanwhile, Harry Plant, from Willingdon Community School, will be musician in residence at the EDGH.
Four of the students, Charlotte Thorkildsen, Carla Flack, Philip Benge and Pasha Milburn, also study at the Hastings and Rother Music Centre, based at St Leonards Academy, part of the East Sussex County Council-run East Sussex Music Service.
More information about the service, which provides music tuition and teaching alongside a range of concert groups, choirs, wind bands and ensembles, is available by calling 01273 336770.