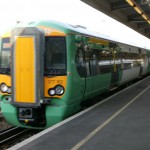 FASTER rail links between East Sussex and London have taken a step closer after receiving the backing of a senior Government minister.
Speaking during a visit to the county, transport secretary Patrick McLoughlin announced Network Rail would launch a formal feasibility study into electrifying the Hastings to Ashford line.
The scheme could shave 30 minutes off the journey time between Hastings and London, allowing people to travel from 1066 Country to the capital in around 70 minutes.
Electrification of the line is one of the key priorities in East Sussex County Council's rail strategy and would boost growth in the county, according to Cllr Rupert Simmons, lead member for economy.
He said: "Electrifying the Hastings to Ashford line is vital for the future economic prosperity of East Sussex and will act as a catalyst for growth in the county.
"The scheme will allow a faster link to London and the continent via high-speed services running through Ashford, reducing journey times and allowing access to jobs, education and training.
"We welcome the minister's announcement and will continue to work with our partners to endeavour to bring these sorely-needed improvements to fruition."
Mr McLoughlin was speaking at a rail summit held on Monday (31) at Sussex Coast College, in Hastings, attended by local politicians, rail industry figures and campaigners.
He said there was a 'good business case' for electrification, and revealed Network Rail would carry out work including examining the feasibility of the scheme and establishing funding sources.
The minister also announced short-term improvements to speed up capacity through the Bo Peep and Sevenoaks tunnels, on the Brighton to Tonbridge line either side of the Kent-East Sussex border.
During his visit, Mr McLoughlin also visited the route of the Bexhill to Hastings Link Road, to inspect work being carried out on the £113 million project, due to open in summer 2015.
Cllr Simmons said: "Mr McLoughlin was able to see how work is progressing rapidly on the Link Road, which will bring up to 2,000 new homes, 3,000 new jobs and economic benefits valued at £1 billion.
"Improving transport infrastructure is one of the most important elements of the work we've been doing with our district council partners to bring about regeneration which will have huge benefits for Hastings and Bexhill – and the county as a whole."