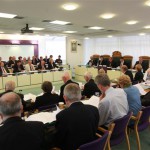 A CONSULTATION into the way mobile library services are delivered will be discussed by the county council's cabinet later this month.
Members will be asked to approve a consultation process on a new, more efficient way of delivering services in the community.
If cabinet approves, residents will be consulted on combining stops in communities where the mobile library visits more than one site and which are a mile or less apart.
In addition, services provided by 22 visits to sheltered housing units and care settings will be replaced by the existing Care Home Service and Home Library Service.
The proposals, which would reduce the cost of the service by £131,600 from £259,600, would include replacing the fortnightly schedule with a three week rota.
Information gathered by the library service shows that 46 percent of the 1,700 customers using the mobile library also access services by visiting static libraries.
The Home Library Service would be promoted among customers who cannot easily use a library due to disability or frailty, or who are caring for someone who cannot be left alone.
Another part of the planned changes affects the county council's mobile office. The service would be replaced by visits by tutors to local communities where requested.
Cabinet will make a decision on the consultation when it meets on Tuesday, April 22. If approved, the consultation is expected to run during the summer.
The agenda for the cabinet meeting can be found at www.eastsussex.gov.uk