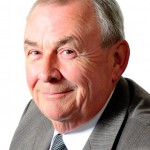 THE ceremonial head of East Sussex County Council has offered his congratulations to a county museum nominated for a prestigious award.
Ditchling Museum of Art and Craft, which reopened last year after a £2.3 million redevelopment, is a finalist for the Art Fund Prize for Museum of the Year 2014.
The museum will compete with such heavyweights as London's Tate Britain and Hayward Gallery and the Mary Rose Museum, in Portsmouth, for the £100,000 prize.
Cllr Colin Belsey, county council chairman (pictured), said the museum's nomination would help East Sussex achieve the priorities of its cultural strategy, which sets out a vision for culture in the county over the next 10 years.
Cllr Belsey said: "The redevelopment of Ditchling Museum has been a major success in turning a small, local museum into a nationally-recognised attraction.
"To be nominated for the Art Fund Prize is a tremendous achievement and will encourage more people to visit not just the museum but the county as a whole.
"I'd like to wish the museum every success and hope they can bring home the prize for East Sussex."
The winner of the Art Fund Prize will be announced at a ceremony at the National Gallery, in London, on Wednesday, July 9 2014.
More information about the museum is available online at www.ditchlingmuseumartcraft.org.uk while information about the Art Fund Prize can be found at www.artfund.org/prize