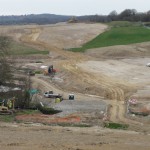 A ROAD expected to boost the East Sussex economy is starting to take shape with a number of major projects completed over the past month.
April saw significant progress across the Bexhill to Hastings Link Road project, including the start of major earth moving operations across the site, and this work will accelerate during May.
Woodsgate Park Bridge will open later this month. Bob Pape, Link Road project manager, said: "The opening of the bridge will lead to improved local access for residents and our thanks go out to all of them for their patience during the work. It is much appreciated."
Other key areas of activity in May include;
Steel beams will be delivered to Acton's Farm Bridge. This is one of the bridges in the central section of the scheme.
At the railway bridge at the Hastings end of the scheme, 500 cubic metres of reinforced concrete was poured at the end of April in an operation which took 15 hours to complete. The central pier base and the western abutment base, at the Crowhurst side of the line, are both now being constructed.
The base excavations have now started on the Crowhurst Road Bridge and this structure will be located on the realigned section of Crowhurst Road.
Part of the new Link Road will be used as a temporary traffic diversion when Ninfield Road Bridge closes. Diverted traffic will be able to use the new section of road between the junction with Belle Hill (A259) and London Road (A269) and the bridge, while it is demolished and replaced with a new crossing.
Traffic will revert back onto London Road and the new Ninfield Road Bridge as soon as the replacement bridge construction is complete.
The Bexhill to Hastings Link Road is expected to provide a major economic boost to the area, bringing in around £1billion of investment, with the creation of 2,000 new homes and 3,000 new jobs. It will see the development of 42 acres of land in North East Bexhill including a 50,000 square metre business park.
It will also have a significant impact on reducing traffic congestion, making the area better for both residents and visitors. It will relieve major congestion along the A259 between the two towns; reduce problems on the A2036 to the east of Bexhill; the rural roads North of Bexhill and the routes through Crowhurst and Battle.
To find out more about the project, visit www.eastsussex.gov.uk/linkroad