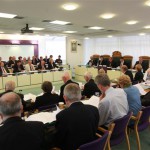 NEW ways of providing a wider variety of hot meals to elderly residents could be discussed if East Sussex County Council's Cabinet give the go ahead to a consultation.
On Tuesday, June 3, members will be asked to approve a consultation among service users and their representatives, people eligible for the service and other relevant organisations, into ways of offering residents more choice, while potentially saving the council money.
In recent years, the number of people using the community meals service has fallen, and since the current contract was introduced in 2008, the number of meals being delivered has dropped by 100,000. The service currently provides hot meals for around 500 people across the county.
The county council's community meals contract includes the delivery of hot meals to eligible residents who choose to use the service. The council subsidises the meals, contributing £4.10 to the overall cost of £7.50.
With an increasing number of hot meal providers now delivering locally and a wider variety of chilled and frozen meals available to be delivered by supermarkets, residents could be asked how changes to the service would impact them.
Any consultation would include the possibility of asking residents to meet the full cost of meals they choose to receive, a move that would save the council £535,700.
If Cabinet approves the consultation, the outcome and final proposals, based on feedback, would be reported back to members in October.