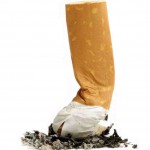 SELLING bogus cigarettes exposes more people to the dangers of smoking and may help fund organised crime.
That's the message from East Sussex Trading Standards after a shopkeeper from Hastings was convicted of selling illegal tobacco products at his town premises.
Fazel Kader was handed a 12-month conditional discharge after admitting selling foreign cigarettes and rolling tobacco without the required health warnings, and products specifically made for the illegal tobacco market.
Kader, 32, of Eversfield Place, St Leonards, was caught after trading standards officers carried out a joint inspection with Sussex Police at his shop, Margo's Market, in Claremont, in November last year.
Cllr Rupert Simmons, East Sussex County Council lead member for economy, said: "Contrary to what some people may think, selling illegal cigarettes is not a victimless crime.
"It undermines the great efforts being made to protect people from the dangers of smoking, by offering tobacco at pocket money prices.
"People who sell these products make it easier for people to take up smoking and become addicted, while profits from illegal tobacco sales may help to fund organised crime.
"This conviction is another success for Trading Standards and their close work with the police, the council's public health team and other partners on the East Sussex Tobacco Partnership.
"I'd strongly urge anyone who knows of illegal tobacco being sold to report it, to help us stamp out a practice which fuels criminal activity and puts people's health at risk."
In addition to his conditional discharge, Kader, who was sentenced at Hastings Magistrates' Court on May 21, was ordered to pay £200 costs and a £15 victim surcharge, and to forfeit for destruction the tobacco seized.
Anyone who suspects illegal tobacco being sold is asked to report it by calling Crimestoppers, anonymously, on 0800 555111.